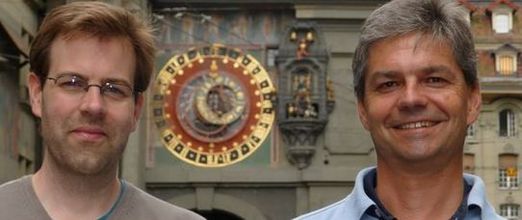 Thorsten Stegemann (Mr. jRep :-)   Stephan Räss

proudly present

                                            jRep 5.5                                            


"I only work with jRep. It couldn't be easier or more comfortable. And it's fun."
Traudl Wöhlke, Hockenheim  more ...

"jRep - to me the best repertorization program for daily homeopathic practice."
        Dr. Martin Lion, Ulm         more ...


For the method of BÖNNINGHAUSEN and KENT,
including the optimized polarity analysis according to Heiner Frei and his questionaries !

New: The COMPLETE-Repertory 2022 by Roger Zandvoort including selection of authors !

jRepApp for Android, available at Google Play Store :-)

From 300 € - for 3 Computers of your choice with Windows, MacOS and or Linux ...


Rubrics, Graphs and a proper Materia-Medica-Comparison - all at a glance: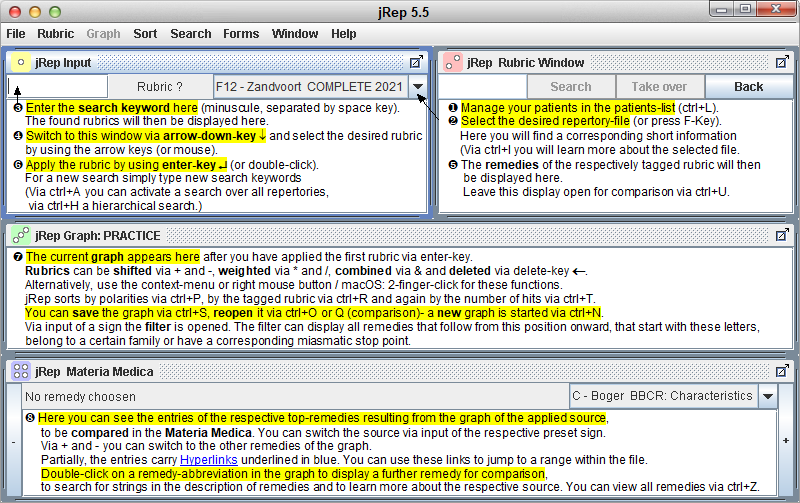 The size of the program has been reduced for this hompage, it can otherwise be adjusted at will.

Start ahead with the new introductions for Windows or MacOS
▲

---
What's special about jRep ?

jRep is the only program to offer

selection of rubrics, rubrics-display, graphs and a proper Materia-Medica-comparison - all at a glance
the Therapeutic Pocketbook by BÖNNINGHAUSEN of 1846 including relevant additions by Dunham
for comparable results according to the revised version
an optimized polarity analysis according to Heiner Frei that reveals relevant remedies immediately,
the questionaries by Heiner Frei can be entered within the program and also online,
which generate the programs' graph automatically
changes in rubrics can be commented and Materia-Medica-entries can be formatted
and much more...
Test the software- unlimited and without engagement for 4 weeks...


                    One time
  jRep Basic-Program for Windows, macOS & Linux

250 € 
  Boenninghausen: THERAPEUTIC POCKET BOOK of 1846
  extended by many synonyms and the THE SIDES OF THE BODY AND DRUG AFFINITIES,
  furthermore marked Dunham supplements and
  including optimized Polarity-Analysis according to Heiner Frei (defeatable) and
  his questionaries to click on (also online ;-)
  Additionally Boger Boenninghausens extended Materia Medica: CHARACTERISTICS

+ 100 € 
  Boger: Boenninghausen's Characteristics and Repertory (BBCR) of 1937

+ 100 € 
  Boger: GENERAL ANALYSIS (GA) of 2004, extended by synonyms etc.

+   50 € 
  KENT   (Repertory) including the Künzli-Points, also visible in the graph !
+ 100 € 
  Zandvoort: COMPLETE 2022   (Repertory)   Update-Info
  Update of an earlier Complete-Version ('03 - '21)                       75 €
  Update of  a  former Complete-Version                                     170 €
+ 300 € 
  jRep including all modules another 100 Euros off ;-)
800 € 
                    Annual fee
  jRepApp for Android                                                             manual
50 € 
  jRep-Web mainly for iOS (iPad & iPhone)                            manual
50 € 
---

And that's new:


The new version 5.5 includes the Complete-Repertory 2022

Our best advise is for you to read the introductions for Windows or MacOS jRepApp plus jRepWeb


We wish you great joy with jRep 5.5 !



I only work with jRep. It couldn't be easier or more comfortable. And it's fun.
From day one I could simply start off and work with it,
without any prior knowledge of the program.
I was able to solve initial installation problems quickly by myself (as a computer lay person) with the help of the support.
I think it's brilliant that the MM is also included in the program.
In short, a tool from practice for practice. In addition, it is very affordable in price.
What I also like: jRep is constantly being expanded, every homeopath can contribute to it.

Traudl Wöhlke, Hockenheim


jRep - to me the best repertorization program for daily homeopathic practice
with all important basic works from Hahnemann to Bönninghausen, Jahr, Boger, Kent and others
in a modular structure according to your needs, easy to understand and a very clear structure,
excellent support if you need help.
In short: I have been working with it for about 10 years - with still growing enthusiasm!
Yes, this is how homeopathy works!
a *****praise to the developer Thorsten Stegemann and his programmer Stephan Räss - an invincible team!

Dr. Martin Lion, Ulm, www.dr-homoeopathie.com


jRep is a very easy to use, clever program for repertorizing.
Very neatly programmed, well maintained, runs very stable.
The support has always answered very quickly and solved all problems rapidly.
In my practice I repertorize very often and I have been using one of the market leaders for many years.
Meanwhile I have switched completely to jRep and only use my old software to open the old data records.

What I like most is that one can use a search window, the evaluation and a window for the materia medica on one screen at the same time.
So you always have everything important in view. This ensures fluent working in the daily practice routine.
The technical side is at least as important.
jRep is a neatly programmed, fully developed program without teething troubles.
It runs very stable without hangs and crashes and is very compatible with Windows.
My old software had once damaged my Windows installation during an update so severly, that I had to reboot the computer.
That can hardly happen with jRep.
Installation and updates have always been done quickly and did not cause any problems.
A big compliment to the developers.

So far no large repertories were available for jRep.
Since the latest version will include the Complete Repertory, jRep is an absolute recommendation. (...)
Even though jRep is still the best program on the market for me.

Franz Bonsch, Emmendingen, www.hausarztpraxis-emmendingen.de